The production and availability of counterfeit rolling bearings has been a longstanding issue, with their use attributed to machine damage, extended periods of downtime and personal injury. Martin Ryan, Schaeffler UK's industrial distribution director, explains why the problem is growing and the dangers of being tempted by deals which seem to be too good to be true – and usually are.
Product counterfeiting is big business. A report from the Organization for Economic Cooperation and Development (OECD) put the value of fake goods at over £400bn – a figure that represents 3.3 per cent of world trade. Although many people still think that counterfeiting is a problem that only affects luxury brands, the rolling bearings industry is by no means immune from the influx of fake products.
Defining moment
The word counterfeit refers to a product that illegally uses a manufacturer's branding and infringes intellectual property rights to dupe a potential purchaser. This is different to a product that is simply substandard and doesn't meet regulatory compliance. Nevertheless, there are always people willing to produce goods that are designed to lull unsuspecting purchasers into a false sense of security.
Although relaxed trading conditions between countries has led to more competition and simplified purchasing, it has also made it much easier to produce and sell counterfeit goods. To compound the issue, the exponential increase in the size of the global online marketplace means the risks of non-compliant or counterfeit products reaching the UK market is increasing all the time.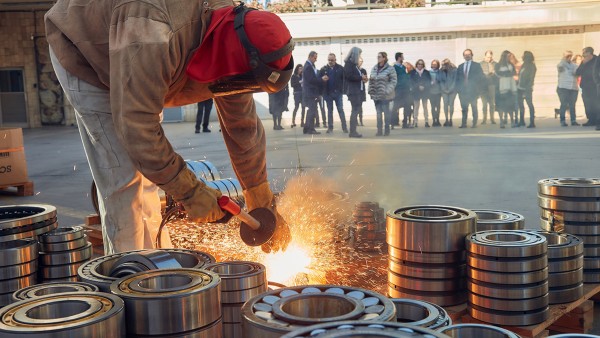 Run the risk
Despite being commonly viewed as a situation that stems from the Far East, there are numerous stories of fake bearing seizures from all over the world. These include counterfeit Schaeffler bearings worth close to €980,000 being found at the premises of a Columbian distributor, a raid in Spain where large quantities of counterfeit Schaeffler products were identified and in Italy, where a container of suspicious Schaeffler branded rolling bearings was stopped in transit. These are just the ones that have been caught – there are many more that go undetected.
Low cost can be a temptation that is hard to resist. Buyers must ask themselves what the potential hidden costs are in terms of liability and credibility with their customers if the product turns out to be counterfeit.
While cost is by far the predominant reason for purchasing a counterfeit product, supply chain issues are creating longer lead times. There's no doubt that this is a serious logistical and operational issue at the moment. As a result, if a buyer is offered a product with a shorter delivery time, which means a project can be completed on schedule, the temptation is there to take a misguided risk.
Taking action
Having developed an enviable reputation for the quality of its products, it should come as no surprise that Schaeffler takes the issue of counterfeiting and damage to its brand reputation seriously. In 2004 we formed the Brand Protection Team (BPT) to deal with suspected counterfeiting cases in collaboration with customs and authorities, develop measures to protect against product piracy and trademark infringements, and raise awareness of the issue.
Due to the ability of rolling bearing counterfeiters to create products that look almost identical to the genuine articles, identifying the fakes is not always easy. In order to help spot the difference, the Schaeffler OriginCheck app was introduced in 2018 to allow purchasers of the company's rolling bearings to carry out initial authenticity checks both quickly and easily, and initiate further steps to obtain proper clarification. Labels with the data matrix (QR) code that makes each product unique can be checked by smartphone, putting customers in an even better position to purchase original parts from safe sources and get support from the BPT if necessary.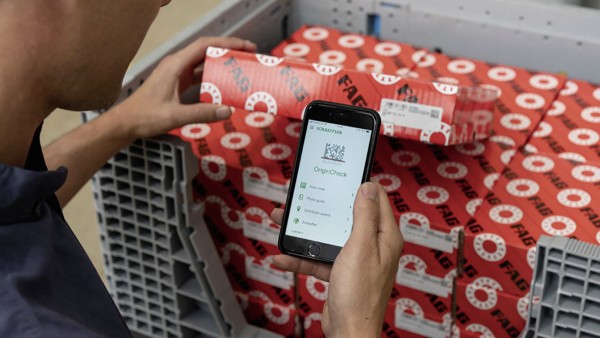 Ultimately, the best piece of advice I can offer is to purchase exclusively from Schaeffler certified distributors, which obtain original products directly from us. However, if you have reason to believe that your goods may be counterfeit, take a photograph and send it to the BPT. A Schaeffler expert will immediately inspect whether the goods are counterfeits and, in the event of uncertainty, request physical sight of the product for further inspection.